Tuesday, May 31, 2011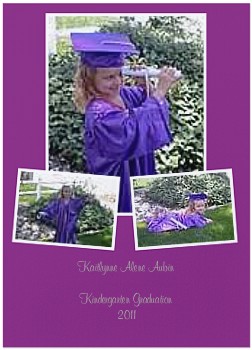 Classic Purple Graduation
Shutterfly has fun graduation party invitations & gifts for the grad.

Posted by

Bobbin Aubins
at 8:34 AM
2 comments:

Monday, May 30, 2011
Kaleb is 9 months old, crawling and standing on everything. He is about to start walking too! I am excited, yet wish that I could keep him less mobile for a while yet. He is such an investigator! I have to watch him like a hawk, as he likes to get into everything and likes to go everywhere. Such a sweet baby still and such a cuddle bug in the mornings! I love cuddling:-)
Wow, I can hardly believe that May is almost over! We had a very busy fun-filled month! During the busy times, I stopped so many times and just smiled at my family. I am so blessed! I never could have imagined that life would be so full of joy!
Cinco De Mayo! What fun! Though our reason for celebrating had little to do with the Mexican soldiers victory, but with celebrating the 2nd birthday of our sweet Lydia. Our home has been blessed greatly with our brown eyed Daddy's girl. She is talking so much now, and still loves dogs! She is buddies with all her siblings, but spends
lots of time with Anna while the older kids do school work. We celbrated her birthday by taking her to Build A Bear (just Mommy, Daddy & Kaleb) alone. What fun watching her pick out a dog! She found a cute little dress and when I showed her the shoes and hair pretties she didn't care. She just wanted her doggy and that was it, didn't bother us either we like to be frugal too:-)
We also had a joint birthday party with my side of the family for Timmy, Anna, and Lydia. The kids had fun playing with there Aunt and cousin. I enjoyed my wonderful hubby's BBQ Tri-Tip MMMMM! The fellowship was great, and it was a joy seeing the kids open presents and being thankful. We have been working with them a lot in this area, and I was so blessed to see Anna especially say "thank you" over and over again.
Mothers Day was a great day in God's House. I was blessed to receive a rose for being the mother with the youngest baby. I have gotten that several times, who knows maybe I will get it again next year:-) I love to reflect on Mothers Day! My very first one was 7 years ago, when my "precious" Timmy was born on that Sunday morning! Then last year on his birthday (mothers day again) he and Kaitlynne were baptized. Such treasure to share our day:0)
On Timmy's Birthday outing we took him to a place called Scandia. He beat us both at the first game of miniature golf! He loved riding with his Daddy in the go-karts and playing the arcade games. With his tickets he got a Whoopie cushion! What joy that filled our home for the next few days! We were toot'n up a storm ;-0 haha, we are a joking family so it was really fun!
The next week we had another joint party with the Aubin side of the family. His parents and one of his brothers came with their 5 kids. His other brothers family was sick:-( We had fun though, great time of fellowship, and again BBq only this time Chicken! I love it when my Hubby BBQ's too, less mess for me to clean up! The kids did a Pinata that wouldn't break, so eventually Tim had to grab it and rip it apart.
The 3rd week we finished up our school year! Such a blessing to be done, though we do plan on doing stuff through the summer. We had an end of the year dinner out at Chuck E Cheese. We all had fun, and I told Tim that we had so much fun we should go for one of our dates♥ I recently got the Basic Phonics Sounds CD from Abeka that goes with the charts for K-5 and 1st grade. I am thrilled with it, wish that I had it sooner. I can have one child listening and reading the chart while working with the other and not have to try to work in going over and over the charts with them. I highly recommend anyone that is using Abeka for Kindergarten or 1st Grade to get it.
Kaitlynne had a little graduation celebration, and was so cute in her cap and gown. She is growing up so much! It was sweet watching her walk the aisle
(our hallway) for her graduation to get her diploma from her Daddy. I cried! I am silly I guess:-) Such a joy-filled Mommy moment!
The last week of May was our vacation! We went and stayed the night with Nana & Papa (my folks) to start it off. Then we had our big camping trip planned! Well what an adventure....
Our first day there while setting up the tent, I got sick:-( With a nasty stomach bug. Glad to be out in the fresh air, and all but not the most fun. That night in the tent, Anna woke up and got sick on her sister:-(...Then Tim got it Wednesday.... and then we came home Thursday. Despite being sick, we had a BLAST. I love camping, and the kids and hubby had tons of fun fishing. I enjoyed the time away from it all with my family. Kaleb was so happy and content during the whole time! We brought his exersaucer and he was in that mostly while we were outside and he loved it. At one point we had a bird fly down and grab a piece of bread right out of Anna's hands! I screamed at first, it was so funny though:-) We headed home and the other kids got sick when we got home though and we were all sick again thru the weekend. I was just thankful that no one was sick in the car. Been there before and it is pretty miserable!
Anna's Birthday is in just a few days and we're very excited to take her to Build A Bear too. When were were there for Lydia's they gave us a $10 gift card for our next visit! What a blessing!
I am excited about my next blog! I am going to share what the Lord has been doing in my personal walk as well as with our marriage! I love the Lord, and am so thankful for the life HE has given me. I am so in love with my husband, he is truly my best friend on earth♥ I am so thankful for the life that we have together!
Posted by

Bobbin Aubins
at 11:55 AM
1 comment: